Cloud Print for Windows ™


Connect Windows PC Printers to Google Cloud Print
---
Product Information
Cloud Print for Windows is a Windows PC client for the Google Cloud Print service (Video). Cloud Print for Windows registers local Windows printers with Google Cloud Print (GCP) creating virtual printers within GCP. When you use GCP to print from Gmail, Google Apps or mobile devices, the virtual printers registered by Cloud Print for Windows will be available for you to select. Cloud Print for Windows monitors these virtual printers and when a print job is submitted, it downloads the job to your PC and prints it on the corresponding local Windows printer. Cloud Print for Windows does not require Google Chrome and will monitor GCP printers even when you are not logged on.
Cloud Print for Windows also supports sending print jobs from your Windows PC to any GCP printers you have registered under your Google user name or have been shared with you by others. Upload files directly to GCP virtual printers quickly and easily. Supports Google Docs, HP ePrint printers registered with GCP or any printer with built-in GCP support.
Cloud Print for Windows includes a Windows Virtual printer feature that puts your Google Cloud printers right into the Windows printer menu. Easily print directly from Windows applications such as Outlook, Word or Excel to your Google printers. The Virtual Printer does not require you to interact with Google Cloud Print every time you print. The Virtual Printer is fully compatible with Windows Remote (mapped) printing, Remote Desktop and Terminal Services. See the Cloud Print for Windows help for a detailed discussion of the virtual printer feature.
Cloud Print for Windows integrates your Windows PC with the Google Cloud Print service.
Check out our YouTube Channel for getting started and how-to videos.
---
Cloud Print for Windows is available in Free, Standard and Professional Editions. The Free Edition is limited to registering one printer, one page print jobs, no printer sharing. Submitting print jobs to GCP is limited to three per day. The Standard Edition has no printer, page or submission limits but does not allow printer sharing. The Professional Edition includes printer sharing. Printer sharing is the ability to share a single printer registered with Google by Cloud Print with any number of other Google user accounts or groups. This also includes sharing virtual printers on a Windows network. Pro Edition is required to use on any Windows Server operating system.
Cloud Print for Windows runs on all 32 and 64 bit Windows versions starting with XP (SP3). Requires Microsoft .Net Framework 3.5 or later. Outgoing access to the internet on ports 80, 443, 5222 and a Google Account is required.
Cloud Print for Windows is licensed at $19.95 per system for the Standard Edition
and $39.95 per system for the Professional Edition.
Technical support is free at this time but only available by email.
Download Cloud Print for Windows version 2.2.3 (~11 mb)
32-bit: MSI ZIP
64-bit: MSI ZIP

Error "Invalid Parameter" on startup
Error 404 during login to Google
All users read this before installing
Windows XP users read this before installing
To purchase a license, run the Cloud Print for Windows service controller applet and click on the Help pull-down menu. Click on Purchase License. Complete the purchase process in PayPal. Cloud Print for Windows will automatically convert to a licensed Edition when the Controller app is restarted after allowing a few minutes for processing.
Comments, questions or problems with Cloud Print for Windows?
We are very interested in your feedback.
---
---
Error "Invalid Parameter" on startup
Some users have experienced the error Invalid Parameter when starting the CPfW service. This is due to an issue in the GCP API when updating printer registration information in the GCP database. This problem is fixed in v2.2.1.
---
Error 404 on login to Google
Google Cloud Print no longer accepts the old "client access" login scheme used in early versions of Cloud Print for Windows. Attempts to login to GCP with the old scheme return error 404, not found. If the CPfW main screen shows the login id and password boxes, you are using the old scheme. Go to the Settings screen and enable OAuth2 Authentication. Click Ok and the controller will restart and present you with a browser window where you login to Google with the same account you have been using. Google will ask you to grant permission for CPfW to access Google resources. Click Accept. The controller and service will restart again and and should login to GCP successfully. With OAuth2 CPfW does not retain or know your login information. CPfW uses a special key returned by Google to access GCP.
---
Notice for all users
Every effort is made to ensure Cloud Print for Windows is reliable and performs as documented. However, due to the fact that Google Cloud Print is still considered a 'beta' service and the wide variety of Windows versions, configurations and network environments, problems do occur. Almost always, such problems are easily fixed...if we know about them and if we can collect trace information. So, if you encounter problems, please contact us and help us fix the problem for you and all other users of Cloud Print for Windows.
---
Notice for Windows XP users
When installing Cloud Print for Windows on Windows XP, you will see the following message displayed: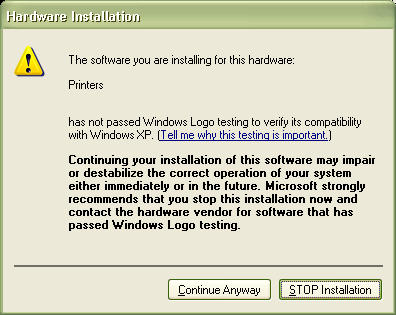 The Cloud Print for Windows virtual printer driver has not yet been submitted for logo testing, so this dialog appears. Click Continue Anyway and the installation will proceed.