SNMP Explorer™
SNMP Mib Exploration & Monitoring
---
Product Information
SNMP Explorer is a exploration and monitoring utility for SNMP agent systems. SNMPE provides an explorer style view into the MIB exposed by an SNMP Agent. Easily navigate the agent MIB to find objects of interest and see their current values. Retrieve object values with a click of the mouse. View descriptions of MIB objects. Send and receive SNMP Traps. Auto discover SNMP agents on your network.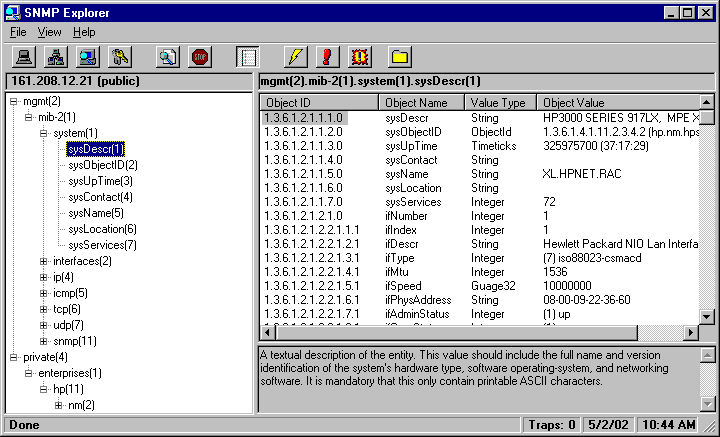 SNMP Explorer runs on Windows 98/NT/2000/XP.
SNMP Explorer is licensed at $29.95 per system.
Technical support is free at this time but only available by email.
Download a 30 day trial. (Version 1.0 approx 3 mb)
To purchase a license, download and install the trial version. Run SNMPE and click on the Help pull-down menu. Click on Purchase License. Capture the License Code shown to the clipboard. Then click here to purchase on-line. Put the License Code in the Comments to Vendor box. Be sure to supply a valid email address as your validation code for the license will be provided by email after the on-line purchase is completed. Licensed users can download and install the trial to update to the current version.
Questions about or problems with SNMP Explorer?
---