Drive Space Explorer™
Disk Space Management for Windows Systems
---
Product Information
Drive Space Explorer is a disk space management utility for Windows systems. DSE provides an explorer style view into the disk volumes of a Windows system showing the space consumed by each folder and file. Easily navigate your volumes, folders and files to see where your disk space has gone.
Quickly see which folders and files are taking up the most space on your hard drive's volumes. Sort folders and files by size. See a list of the 100 largest files on each volume.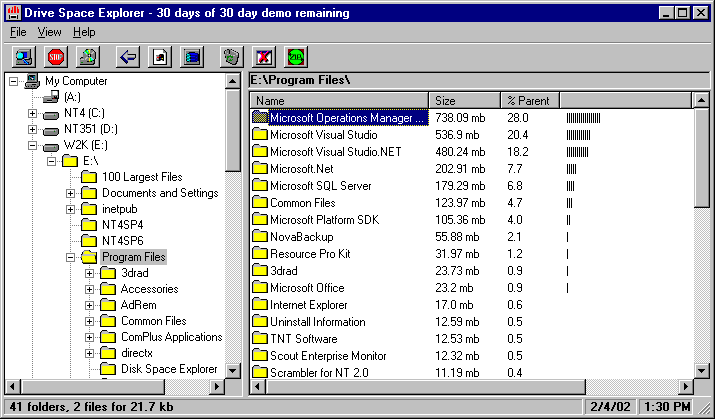 Recycle, delete or zip folders or files to free up disk space.
View volume global information including folder and file counts and the amount of space lost to system overhead and allocation inefficiency.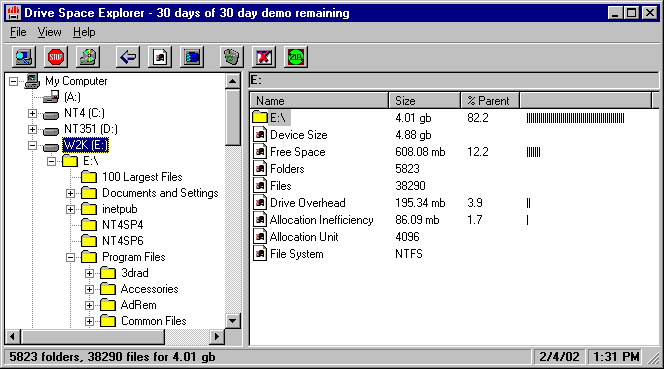 Drive Space Explorer runs on Windows 95/98/ME/NT/2000/XP with IE4 or later installed. Requires 1 MB disk space, approx 10 MB ram (varies based on number of disks, folders and files).
Drive Space Explorer is licensed at $19.95 per system.
Technical support is free at this time but only available by email.
Download a 30 day trial. (Version 1.2.1 2.2 mb)
To purchase a license, download and install the trial version. Run DSE and click on the Help pull-down menu. Click on Purchase License. Capture the License Code shown to the clipboard. Then click here to purchase on-line. Put the License Code in the Comments to Vendor box. Be sure to supply a valid email address as your validation code for the license will be provided by email after the on-line purchase is completed. Licensed users can download and install the trial to update to the current version.
Questions about or problems with Drive Space Explorer?
---
---